Since the time businesses began having to report employee and contractor wages to the IRS and SSA, filing has been a bit of a hassle. Let us paint you a picture here. In the beginning, business owners would have to order W-2/1099 forms and software from a catalog (using a fax machine. Oh the horror). Three weeks later, a bundle of forms would arrive at their door. Things got a bit easier with Al Gore's world wide web. Users were able to bypass the catalog and order forms and software online directly from an office supply store.
But the forms are just the beginning. Once secure, the actual filing process can start. Software must be installed, data from Quickbooks needs to be transferred into the new program and once forms are complete, they must be loaded correctly for printing. Then, a copy needs to be mailed in a special envelope to each employee, the state and the IRS/SSA. And this doesn't even cover the fees you'll have to pay.
Enter Wagefiling. As one of the first companies to create an IRS/SSA approved complete W-2/1099 MISC filing system online, we eliminate the need for software, forms, wasted time or materials. We also provide a significant cost savings over doing things the traditional way.
Users simply create an account to get to the secure area of the site, enter company and recipient information digitally (users also have the option of importing information from any accounting software like Quickbooks) and we'll e-file the Federal copies and transmittals to the IRS/SSA for you. Within a few days the IRS will give us a confirmation number that is then emailed to you and saved in your account for future reference. All for $3.49.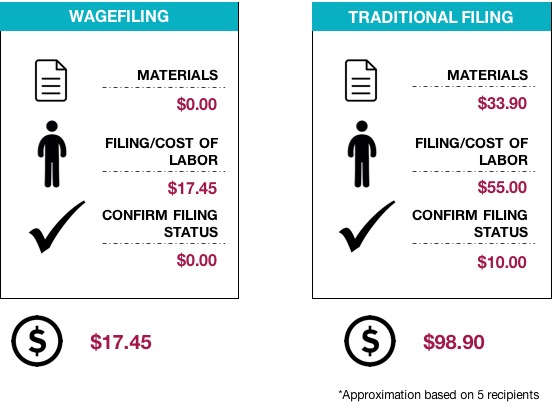 Want more information? Sign up for our mail list and we'll make sure you have all you need to know when it comes to tax prep.