‹
›
This easy-to-use online service lets you print, produce and file your own W-2 or 1099-MISC forms on the cheap."

Jonathan Blum

This service might be just what you need if you have a small number of Form-1099s to file."

Bill Winterberg

No forms or software needed!
Forget buying forms. Simply enter your 1099-MISC or W-2 data online. Instantly print IRS approved recipient copies on plain paper or save as secure and we e-file to the IRS & SSA. Combined Federal and State filing is available for participating states.

Is WageFiling right for my business?
If you have a small number of 1099-MISC or W-2's, file past year forms or corrections to file then yes! No more trips to the store to buy more forms than you need. You can also access your information at anytime from any smartphone, tablet or computer year round.

Save Time. Do Good!
Online 1099-MISC and W-2 filing reduces paper waste by eliminating the need for tax forms! Help your company's triple bottom line: learn how using our service helps the environment. Take the pledge to help us Save 3 Million forms this year, and get a website badge to tell the world!

WageFiling Protects Against Identity Theft
Each year, millions of Americans have their identities exposed and stolen during tax season. Companies mailing 1099-MISC recipient copies are required by law to use envelopes stating "Important Tax Document Enclosed" on the outside – the perfect tipoff for identity thieves.
At WageFiling, we offer a free, IRS approved solution called "SSN Truncation". This masks recipient Social Security Numbers or Tax Id Numbers on recipient copies (xxx-xx-1234), to protect the personal identity of you and your contractors. There's no need to worry about identity theft through the mail. Using SSN Truncation also allows you to create recipient copies as PDFs, which can be safely sent via email – which means no more paper or postage.
Using WageFiling's identity protection is safer, it's better for the environment, and it's free. Just check the "SSN Truncation" box during checkout.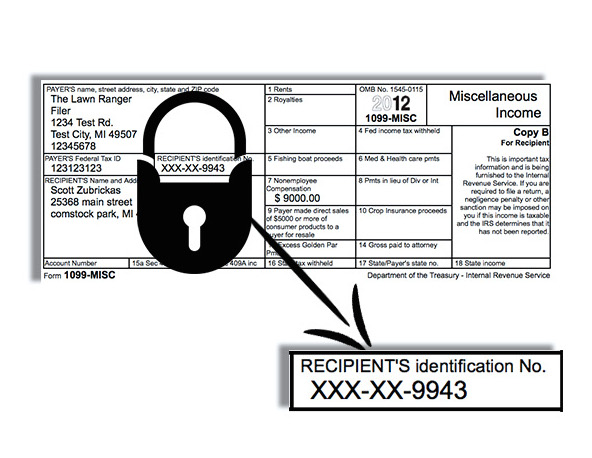 Have questions about filing 1099s and W-2s?